Chipboard Vs. Corrugated Sheets
Chipboard and corrugated sheets are used for similar applications, but what are the real differences between the two materials and which will work best for you?  
First and foremost, it's important to understand just what these packaging supplies are used for. Chipboard and corrugated sheets are primarily utilized as an interleaving method between stacked pallets or products. By layering them in between groups of palletized goods, you'll help prevent the unnecessary and expensive damage that can be caused by forklifts, box cutters, knives, and more. Now, let's break down just what these two individual materials are and what advantages they can give your business. 
What is Chipboard? 
Chipboard, which is occasionally referred to as particle board, is an engineered variety of wood. Essentially, it's a very thick paper product that is generally produced out of recycled or reclaimed paper stock. It is measured in thickness and comes in many different densities.  
Why Should You Use Chipboard? 
One of the biggest advantages to using chipboard for interleaving is that it offers outstanding cost savings. When customers switch from corrugated sheets to chipboard, they can save as much as 30-50% on materials. Additionally, this lightweight pallet layering tool saves space in your warehouse and can be reused. Chipboard gives your palletized loads excellent stability, is environmentally friendly, and is readily available.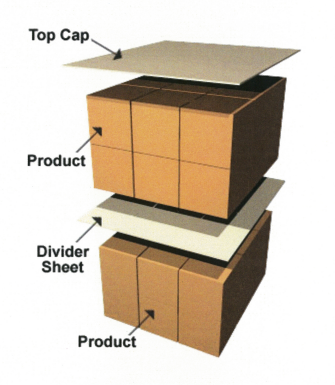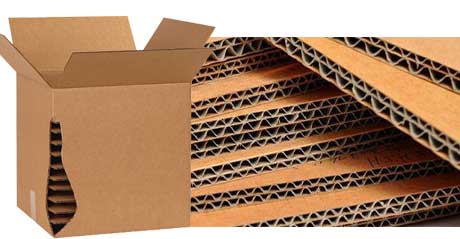 What are Corrugated Sheets?  
Corrugated sheets, sometimes called corrugated pads, are manufactured using fiberboard. This fiberboard is made up of multiple layers of fluted corrugation that are each layered between flat sheets of linerboard. Most corrugated sheets have two or three layers, but can include more for added strength and durability. When looking at a corrugated sheet, you'll notice the waves or ridges in the middle of two liner sheets. These waves are the fluting and the flat sheets are the linerboard.  
Why Should You Use Corrugated Sheets? 
Corrugated sheets and pads are a durable, high-quality tool for pallet layering. While they cost more than chipboard, they offer premium benefits and help to spread weight evenly. Because they are available in both single and double wall sheets, they come with incredible strength and are an ideal choice for heavyweight pallets and products. Corrugated pads can even be placed into boxes themselves for added protection for the individual items within.  
How Do I Choose? 
It's clear that both corrugated sheets and chipboard offer a wide range of benefits. If your top priority is cost savings, then chipboard is a great option, but if you need the best protection for heavy-duty goods, corrugated sheets might just be the way to go. If you're in need of help figuring out what your best bet is or would simply like to speak to our team for more information, feel free to fill out this form with your contact details and we'll reach out as soon as possible.