Finding a lightweight strapping tool just got easier
Strapping is one of the most used methods of unitization, bundling, and packaging in most industrial settings. Being able to easily and quickly tension and seal with a lightweight strapping tool is something that every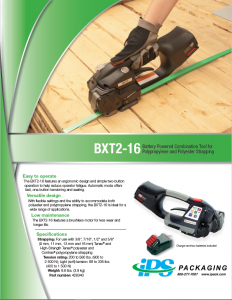 operation is looking for when it comes to getting product out the door.
The BXT2-16 is a battery-powered combination tool from Signode that can be used on both polyester and polypropylene strapping. This lightweight strapping tool is versitle, easy-to-use, and ergonomically designed to reduce operator fatigue.
With a simple two-button operation, the BXT2-16 is low maintenance: it has a brushless motor for less wear and a longer life, as well as an innovative battery design that reduces contact damage.
It can also strap in multiple modes. From a standard tension of 550 lbs to a soft tension of 335 lbs, this unique combination tool can be managed in a manual, semi-automatic, or fully automatic mode.
Learn more online or by contacting one of our experienced and knowledgeable Packaging Account Managers at (800) 277-7007.