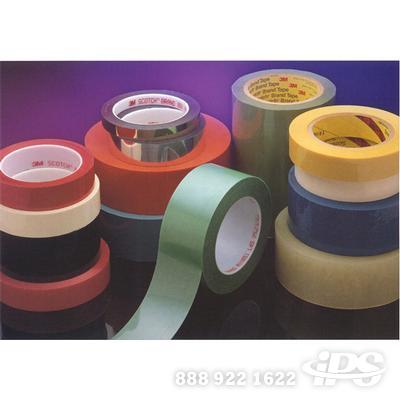 3M invented vinyl electrical tape, and continues to be the standard of the industry. Not all electrical tapes are the same. Listed below are differing characteristics and applications of each type of tape electrical tape that we offer.
3m 1710 Tartan electrical tape is considered to be general use tape. It is a black, 7 mil thick vinyl constructed tape. Inexpensive and relatively durable, Tartan 1710 insulating tape resists abrasion, moisture, alkalies, acid, copper corrosion and weather (including ultraviolet rays). Flame retardant and UL-listed, this is basic electrical tape that is often imitated, never equaled, and found in toolboxes the world over.
Scotch Vinyl 35 electrical color coding tape is 7 mil, premium tape. It is available in nine fade resistant colors. Color coding is often done for phase identifications, color coding leads and piping systems, and for marking safety areas. Abrasion and weather resistant, flame retardant.
As one of the most trusted brands in tape, 3M offers a variety of solutions depending on your application. With top industrial tape applications, the 3M tape line is unsurpassed in protection and durability.
3m Scotch Super 33 plus is a 7 mil premium vinyl electrical tape. Distinguishable by its super stretchy and conformable nature, regardless of environment. PVC backing provides electrical insulation for splices up to 600V. Resists UV rays, abrasion, moisture, copper corrosion, acids and alkalies, and works great in 0 to 220 degree F temps.
3m Electrical Moisture sealant is heavy duty, 45 mil, self-fusing, rubber-based thin insulating mastic compounds laminated to a flexible, all-weather PVC backing. The tape is designed for moisture sealing of electrical connections up to 600V.
IPS Packaging is a leading provider of packaging supplies, packaging equipment and packaging solutions. If you would like to know more about IPS Packaging, call 800.277.7007 or email our
Sales
team.