Equipment opportunities
There's many industries that use packaging equipment and automation to improve their process. The food industry is one of the biggest users of this that we tend to see. Whether it's frozen foods, meat and poultry, dairy, bakery or snack foods, there's plenty of ways to increase your production.
We have a few examples to show you how an investment in equipment can help. And remember, most of these machines achieve a positive ROI in the first year of use or less.
Case sealer for eggs
Case sealers automatically seal cases and boxes eliminating the need for several operators to spend their time applying tape. In this instance a company had cases of eggs in varying heights, but similar cases.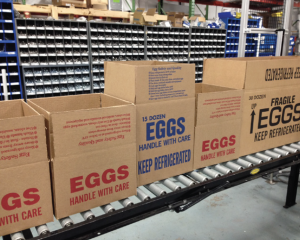 The solution to packaging different sizes of cases is a Combi TBS-100 FCXL Random Height Case Sealer. The top and bottom sealer is perfect for egg producers in the food industry. Because the cases are similar widths but different heights, multiple lines of cases can feed into the machine. This help eliminating the downtown that it takes to changes cases when they're different sizes.
Case erector for floral industry
Case erectors are customizable to fit into any production line and handle any box size. In this example, the floral industry needed boxes that were double wall with cut outs for hand and vent holes. The solution was a Combi 2-EZHS with servo actuator. This machine erects cases in speeds up to 12 per minute. Having the boxes put together automatically and perfectly every time makes the packaging process faster than manual production. Especially in the floral industry, the structural integrity of the box is crucial to protecting its contents.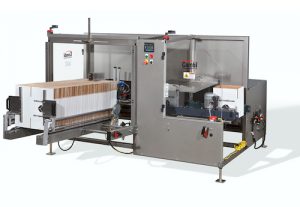 The benefits of packaging equipment
You've read how case sealers and case erectors have helped companies in the food industry. How do you know if they'll help you?
Well, if you're looking for any of the following you should be interested:
Reducing damage rates
Increasing productivity and efficiency
Decreasing labor costs
Reducing material usage rates
Improving worker safety
Contact an IPS Representative today to get started.
---
Follow our Knowledge Base for the latest blogs on packaging supplies, equipment, case studies, and more ways to save money.
Follow us on LinkedIn, Twitter, and Facebook and click those share buttons below if this post helped you.