Engineered Films for Packaging
Plastic is one of the most popular substrates we see in the world of packaging. It is used to create poly bags, plastic sheeting, stretch film, shrink wrap, and much more. In fact, virtually every person on planet Earth has used some type of plastic packaging material, whether they are a manufacturer, retailer, or consumer. What many may not realize is just how durable these plastic supplies can actually get. When manufacturers and other companies need heavy-duty protection in their warehouses and shipping containers, they often look to engineered films for packaging.
What are Engineered Films for Packaging?
In layman's terms, engineered films are high-quality, flexible sheets of plastic. While this may seem like a bit of an oversimplification, there's a lot that goes into the manufacturing process of these durable packaging materials. They are made from some of the finest quality plastic resins in order to provide long-lasting protection to all of your goods. Oftentimes, these films are used to cover pallets, bundle and unitize products, and other packaging needs that require heavy-duty materials. Most engineered films can be used for a diverse range of applications, including packaging, and we'll break down the different uses in just a moment.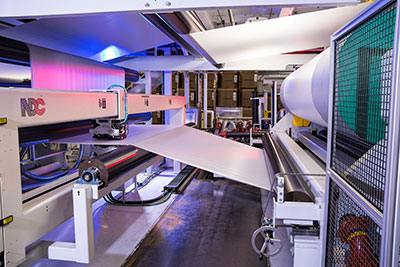 How Do I Use Engineered Films?
Engineered films are used for far more than just packaging. Most commonly, we see them utilized for outdoor applications, such as in the agricultural, energy, construction, and geological industries. Some situations where engineered films are frequently used include:
Landfill Caps and Covers

Methane/Vapor Barriers

Pond Liners

Including reservoirs, brine ponds, farm ponds, golf course ponds, irrigation ponds, canals, retention ponds, streams, storm water basins, and more

Construction Enclosures
Disposal Pit Liners

Fish Hatchery Liners

Fumigation Covers

Cargo Covers

Earthen Liners

Grain, Hay, and Silage Liners

Oilfield Pit Liners

Athletic Field Covers
It is abundantly clear that the durability of engineered films makes them an exceptional choice for industries that need the superior protection. These plastic sheets can safeguard what they cover against the elements, UV rays, chemicals, moisture, and more. However, the outdoor industries aren't the only ones that require this kind of protection.
Engineered Films for Industrial Packaging and Beyond
Packaging, especially industrial packaging, is one such market that relies heavily on engineered films. Because of the incredible properties with which they are equipped, these high-strength materials can be used in a number of ways. Most engineered films for packaging are lightweight, flexible, boast outstanding crack resistance in cold temperatures, and feature UV and thermal stabilizers that allow them to minimize heat buildup and condensation, which extends their lifespan in the outdoors. One of the most prominent examples of this is the Dura Skrim RS10W from Raven Engineered Films in Sioux Falls, South Dakota. This engineered film is a reinforced shrink extrusion laminate that consists of four layers:
Two layers of high strength polyethylene film on the outside (one with UV and thermal stabilizers)

One layer of reinforced scrim in the middle

One layer of molten polyethylene bonding material in the middle
Dura Skrim RS10W engineered plastic film is easy to heat seal, which means it can cover and protect big, bulky products and pallets with ease. Oftentimes, it acts as a heavy-duty alternative to shrink wrap. It features excellent tear resistance (thanks to the scrim layer), a long lifespan, and is highly unlikely to rip, puncture, or pinhole (thanks to the molten poly bonding layer and a signature diamond weave pattern). In addition to functioning as an amazing shrink wrap alternative on your bulkiest goods, you can also use it for equipment packaging and industrial shipping, as well as for other applications like fumigation and construction enclosures or asbestos abatement.
Utilizing Engineered Films in Packaging
Whatever your application may be, let IPS Packaging & Automation assist you in finding the right type of engineered film for your needs. Contact us today or call (800) 277-7007 to speak with one of our many packaging experts.