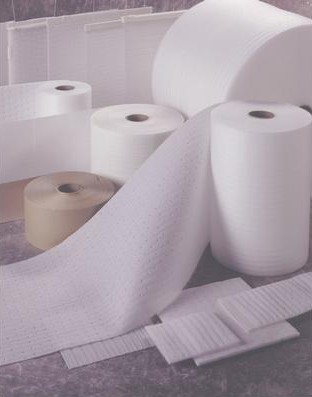 Micro Foam is the only low density polypropylene sheet foam on the market. Whatever application you may be looking to service, Micro Foam could be a potential answer for your business' needs. We sell a number of loosefills and microfoams, even UPS foam rolls. IPS can supply you with foam bags and foam pouches. We even have other protective foam products, such as foam sleeves and foam profiles, or more customized foam products like die cut foam, convoluted foam, or foam planks. If the protection of you shipments is of the utmost importance then you could try our instapack foam products. We can take care of all your shipping needs from basic foam to laminated foam.
Foam Packaging must provide cushioning, allow stacking, provide good thermal insulation, be light-weight, and allow easy handling. Foam packaging accomplishes these goals. Foam packaging comes in rolls, foam bags, micro foam, foam profiles, and more.
Micro Foam Has:
A high coefficient of friction that provides unequaled protection for easily scratched finishes. (Chemically inert material won`t tarnish or corrode sensitive metals. Readily accepts labels and tape. Polypropylene enables even less expensive adhesives to stick better.)
Thermal and vapor transmission properties that make it the ideal material for insulating blankets and over winterizing protection for plants.
(Mildew, moisture and fungus resistant, microfoam sheet foam is safe for the packing of live plants and flowers. Lightweight makes it easier to handle versus PE foam. Effective insulation against temperature extremes. Superior flexibility in the thicker gauges necessary for ease in handling and applying. High melting point allows microfoam to perform reliably from -250 degrees F up to 250 degrees F with a melting point of 320 degrees F. Outstanding breathability enables the release of vapors while it protects against condensation and water damage.)
It can be laminated to a number of substrates to meet specific needs.
(We offer foam laminated to kraft, linerboard, non-woven, film and cohesive materials. Superior buoyancy characteristics are ideal for applications including flotation containment. Low density, light weight make lifting or changing rolls a breeze. Low weight and ease of handling also reduces labor and shipping costs.)
It can act as a cohesive laminate. (The special cold seal coating adheres to itself, but not the product, to form an instant highly protective package.)
Micro Foam is:
Lightweight foam reduces shipping costs
Cohesion leaves no residue and is tamper evident
Watertight seal protects packaged product from the elements
Can be printed on up to four colors
One-step seal saves time and material
Custom sizing eliminates waste
Available in standard sheets or rolls. Microfoam cohesive can be perforated on the roll to facilitate portion control.
To find out more about IPS Packaging, call 800.277.7007 or email our
Sales
team.