Equipment & Automation
You've always heard it was a good idea to improve your process, but where do you start? Stretch wrapper, case sealer, case erector, strapping machine, batching and bagging system. The list of packaging equipment goes on and on, and the price tag can seem like a lot at first. However, equipment pays for itself. We can make it very easy for you and show you how.
DID YOU KNOW: Packaging equipment will give you a positive ROI in just a few months. IPS Packaging can give you a free equipment needs assessment to see how it will save you money in your packaging process.
With our free needs assessment you'll get an on-site assessment of your current packaging process, recommendations from our equipment specialists and a full ROI report giving you the cost justification. We'll show you how you can re-allocate labor to more productive positions, increase throughput and fix inefficiencies. By coming to your site and learning about your process, we're able to better understand how to optimize your operations.
What are the benefits to packaging equipment?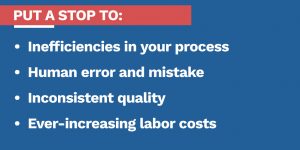 It goes without saying that the key to successful warehouse operations is smooth, efficient product flow. But when you're relying on employees to package your product, you leave yourself open to inefficiencies in your process, human error and mistake, inconsistent quality, ever-increasing labor costs and other operational difficulties that can easily be solved by moving to an automated system. Automated packaging equipment can work long hours while maintaining a consistently high quality and increasing your output.
3 steps to learning how packaging equipment will benefit your business:
 Watch our short video below.
Book a calendar meeting with a product specialist using the same link above.
We'll talk about that free equipment needs assessment and get the ball rolling.