There can be a number of factors that could compromise your shipment, making it critical to use the right packaging tape, adhered correctly, to better ensure a safe, undamaged delivery.
Everyone knows about the ways that products can be damaged during shipping. Using the right packaging tape and ensuring the right adhesion are the two main ways to guard against damage.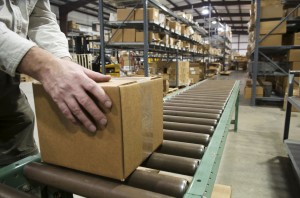 But what about product contamination? There are plenty of ways in which a product can be contaminated. If food is exposed to the wrong germs, it can be rendered useless, or worse poisonous to those who consume it. The opposite applies to industrial chemicals that could potentially harm someone if they get into the wrong hands. This is why it is extremely important that shipping units are properly sealed, preventing potential threats. And one of the best ways that a manufacturer or supplier can do this is with the correct packaging tape.
Choosing the right packaging tape
There are a number of different types of packaging tape available, so you'll need to either understand what factors are most important or work with someone who can help you determine the answer.  For example, depending on the conditions in which the package is sent, the ability for the packaging sealing tape to withstand certain conditions is particularly important, such as fluctuations in temperature compromising the quality of the packaging tape.
However, there are tapes available that can help prevent sacrifices in quality: one such sealer uses a synthetic rubber adhesive that can ensure a permanent bond even in freezing temperatures. This is particularly important in the transportation of goods that need to be stored in certain temperatures that could become contaminated if not done so properly.
Because the need to seal boxes is so important, the market for such adhesives, especially ones that can withstand high pressures, is expected to grow throughout the coming years.
Importance of packaging tape application
Though the material used in the packaging sealing tape is important, its strength can be completely compromised unless properly applied. Manual application can't always ensure the ideal application, so to make sure that tape is being applied properly and securely, companies are turning to automated machines seal boxes before shipment. Not only are these processes ideal for ensuring proper application, but they can always be extremely helpful along the supply chain as this machine improves the speed in which boxes are sealed and can be used for weeks at a time without a break.
Ensuring your packaging tape machine is running at optimal performance levels
While machines are extolled as always being the answer to productivity issues, it's important to remember that they are still machines. And there are going to be inherent issues to keep in mind. However, working with the right supplier and the right manufacturer, you can avoid the common issues.
Here are some examples of how to make your packaging tape machine work better for you: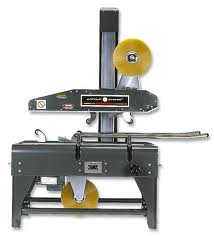 Most machines come with multiple tape head options. Make sure to choose a larger one because a 3 inch tape head can run both 2 and 3 inch tape rolls; a 2 inch tape head can only run a 2 inch roll.
If you're having a problem with tape or tape heads breaking, adjust your tension. About 90% of all calls about issues with breakage comes from the tension being too high. Nothing like a 5 minute fix to get you back up and running.
When you can, go with a longer tape roll: this will help you reduce labor costs and material waste, while increasing throughput.
Find a supplier who can offer you service and parts. Because with a tighter turnaround, based on parts on-hand, you can be up and running much faster.
Find a manufacturer who offers a longer warranty on their products because this demonstrates their confidence in the quality of their product. For example, did you know that 3M just increased their warranty from 2 years to 4 years? That's double the time!
If sustainability is important, why not find a vendor who has one of the first 100% solvent-free tape manufacturing facilities in the world? Want to know more? Just ask one of our sales team members.
Convenience spurs packaging tape demand
Because the need to seal boxes is so important, the market for adhesives, especially ones that can withstand high pressures, is expected to grow throughout the coming years. According to a report by the Freedonia Group, global demand for packaging tape is expected to grow to 43.5 billion square meters, a total value of $37 billion by the end of 2016. This growth is expected to occur at a rate of 5.6 percent per year. The report explains that the growth in production of other industries such as manufacturing parts will be a major catalyst in this industry. The transportation of products is an essential element of a successful supply chain. Making sure that a product arrives safely to the customer is just as important as its successful assembly as the end goal is ultimately to have the product arrive safely and ensure proper operation.
Packaging tape is more than likely imperative to your packaging process. And, if so, you'll need a supplier who can help provide you with innovative solutions and customized programs to meet the needs of your company and your customers. For more information on how IPS Packaging can help,

all you have to do is ask.