Protective films are designed to guard critical surfaces from scratching, marring, and abrasions.  When you think about protective films, you may envision the film found on a new appliance or an electronic device or the material you use to cover and protect flooring while painting, etc.  The reality though is that protective films are used far more often than one might think.  Protective films are used to protect surfaces from scratching, scraping, wear/tears and abrasions.  They are coated with a pressure-sensitive clean peel release adhesive which adheres to and protects the surface completely and effortlessly throughout each phase of production.
Protective Films:  What do you need to know?
Film Types:
Polyethylene: Low, Medium, High and Linear Low Density
Co-Extruded Films: Black/White, Silver/White and custom co-extrusion
UV Protective Films
Polypropylene Films: ideal for heat resistant applications
Blended Films
Low Gel Films
Unique films available upon request (i.e. Anti-Stat, Fire Retardant, PET)
Film Colors
Clear (Transparent)
Colored/Tinted Films
White (Opaque)
Black/White and Silver/White (Co-Extruded Film)
Other colors available upon request
Customization:  Capabilities to tailor the adhesives, coatings and/or printing to the application.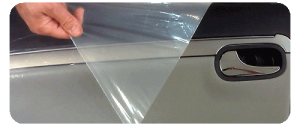 Converting Options:

Roll lengths:  50 ft up to 15,000 ft
Roll Slitting:  1" up to 80"
Roll Perforating:  3" up to 78"
Perforation Direction:  Regular or Longitudinal
Custom Rewind:  Regular or Reverse
Packaging Options:
Branding
Plastic cores available for clean room applications
Material can be bagged for added protection