Not only did the fabricator find a simpler solution for their workers, they're helping their customer to look at a new foam-in-place system for their facility, as well.
A major vendor of ours was selling an engineered plank to a company, who was then fabricating foam cushioning components for a manufacturer of automotive cooling and heating systems. The automotive customer began asking their fabricator about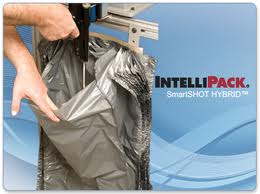 manufacturing "pre‐mold" foam-in-place pieces at their facility and adding them to the daily shipment of fabricated products being sent to the manufacturer.
The manufacturer had been pre‐molding foam-in-place components at their own facility using a competitor's equipment but wanted to redirect that labor to other activities within their facility. Since the fabricator is only 10 miles away and was shipping parts to them on a daily basis already, shifting production seemed a good solution to address its labor issues.
One of the manufacturer's 13 competitor foam-in-place systems was moved to the fabricator's location. The fabricator figured out how to best work with and create the molds with little assistance from their customer or the system's manufacturer. They are now making between 1,500 to 2,000 pre‐molds per month, using approximately 10 different molds.
But because of the existing relationship via the engineered plank business, the door was opened for the IPS vendor to talk to the fabricator about their new foam-in-place system because they have one of the leading foam-in-place systems in the industry.
The fabrictor was worried, however, about rocking the boat with their automotive customer because they had been given the competitor's unit to use. Convinced to test drive the new foam-in-place system in their own facility, the vendor's objective was to demonstrate to the automotive manufacturer that thir platform would meet or exceed the competition and that the equipment itself is more efficient and flexible.
The fabricator agreed to accept a machine and one set of liquids to put it to the test. Its employees quickly discovered how easy the lightweight, hand‐held dispensing gun was to use, including its ability to automate shot times. Also, unlike the competitor's unit, the test foam-in-place system didn't produce any "cold" shots, meaning liquids that don't foam and fail to mold.
The success at the fabricator's facility raised awareness at the automotive part manufacturer's plant that there is an alternative foam-in-place system supplier, one that could overcome the incumbent's challenges. As a result, IPS' vendor will be partnering with the fabricator to evaluate and recommend improvements for the manufacturer's entire foam‐in‐place operation.
If you want to learn more about how a foam-in-place system works or how it can help you, visit our website.