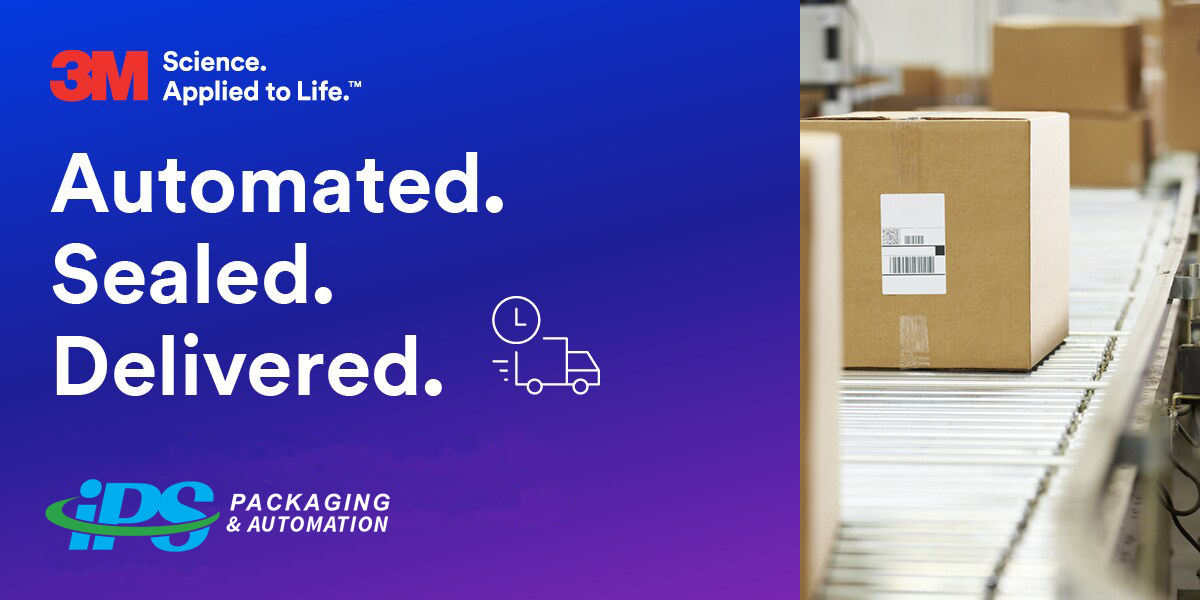 Here at IPS Packaging & Automation, we carry a diverse lineup of different types of packaging supplies and automated equipment. We partner with companies and manufacturers around the nation in order to offer you an incredible range of options, including some of the very best materials available on the market. Among these top-rated manufacturers is 3M. Founded in 1902 and headquartered in St. Paul, Minnesota, 3M specializes in scientific and technical innovations, allowing them to become a frequent member of the Fortune 500 list. In fact, 3M even states that "today, more than 60,000 3M products are used in homes, businesses, schools, hospitals and other industries. One third of [their] sales come from products invented within the past five years, thanks to innovations from the thousands of researchers and scientists [they] employ around the world." Included along with those many outstanding innovations are a variety of 3M packaging products, from 3M case sealers to 3M packaging tape and beyond. Below are just a few of the options you'll find from 3M when you work with the IPS Packaging & Automation team.  
3M Packaging Equipment 
Our team knows one fact to be undeniably true – packaging automation provides consistent, high-quality results, reduces expenses, and creates outstanding efficiency on your packaging line. We make certain to partner only with manufacturers who embrace this fact and demonstrate it every day through their equipment offerings and services. 3M is a shining example of a company that not only truly believes in its products, but also regularly seeks out innovative ways to make those items even better for their end users. Below, we're covering some of the 3M case sealers that may work best for your business. But first, what is a 3M case sealer? 
3M-Matic™ Case Sealers 
3M case sealers, also commonly referred to as 3M carton sealers, are a type of automated packaging equipment that utilize specialized 3M tape to quickly and effectively seal your corrugated boxes. They offer outstanding protection to boxes and cartons of all sizes and styles. Take a look! 
3M-Matic™ Adjustable Case Sealer 7000a Pro:
Seals boxes swiftly and reliably, shift after shift, year after year

Expanded box size capacity

Up to 40 cases per minute operating rate

Dual-extruded columns allow for smooth incremental adjustments

Easily accessible side handle and ruler make height adjustments a snap

Taping heads ensure reliable application of tape without box damage

Interchangeable 2-inch or 3-inch taping heads maximize production flexibility
3M-Matic™ Random Case Sealer 7000r Pro:
Advanced technology case sealer

Ideal solution for top and bottom sealing of random-sized cases

Automatically adjusts to both case height and width

Can handle up to 24 different case sizes per minute

Photo eye detection for box centering quickly responds to cartons of different widths

Electro-mechanical height adjustment delivers precision in application

Dual-extruded columns allow for smooth, automatic adjustments to case heights

3M™ AccuGlide™ 3 Taping Heads ensure reliable application of tape without box damage

Auxiliary offset taping head position provides flexibility in sealing shorter boxes

Interchangeable 2-inch or 3-inch taping heads maximize production flexibility
3M-Matic™ Side Belt Adjustable Case Sealer 8000a:
Spring-loaded, side belt drive designed for narrow profile boxes 

Reliable application of tape without box damage 

Operating rate of up to 40 cases per minute 

Accommodates minor box width variation 

Interchangeable 2-inch or 3-inch taping heads allow for flexibility in production 

Easily accessible side-mounted height adjustment handle 

Reference ruler provides simple height adjustments 

Rugged, dual-extruded columns offer smooth incremental adjustments to case heights 
3M-Matic™ Case Sealer 200a:
Designed to seal the top and bottom center seams of up to 40 uniform regular slotted containers per minute

Heavy duty gear motor provides power to the bottom belt drive

Adjustable side guides position and align your boxes for quick and easy throughput

Seals up to 40 uniform cases per minute

Quick, easy adjustments allow for a wide range of case heights and widths

Applies "C" clip of 2" Scotch® box sealing tape to both top and bottom of cases

Compression rollers squeeze flaps together to create a tight center seam

Durable bottom belt drive offers workhorse dependability for cases weighing up to 85 pounds
3M Tape 
One of the most recognizable 3M lines is the enduring 3M Scotch® Tape. It's popular and highly regarded for good reason – Scotch tape is durable, effective, and budget friendly. However, 3M produces a vast range of different adhesives, not just the Scotch brand tape. No matter what industry you work in, there's something for just about everyone in the lineup of 3M tape. The following covers the variety of 3M industrial tapes, 3M packaging tapes, and even more that IPS Packaging & Automation can provide. 
3M Packaging Tapes 
Frequently referred to as 3M box sealing tape, 3M packaging tape is an essential component to any operation that utilizes corrugated boxes or containers to store and ship their products. With a diverse inventory of options, those looking for premium 3M carton sealing tapes will have plenty to choose from. Each offers impressive security and outstanding performance, and there are many recyclable packaging tapes as well.  
Some examples that you'll want to consider include 3M Scotch Box Sealing Tape 371, which offers medium weight capabilities on a durable polypropylene backing for easy unwind and conformity. Additionally, the lineup of 3M Scotch High Tack Box Sealing Tapes 311+ boast high performance and outstanding capabilities in both damp and cold conditions. For those seeking a more general purpose application, 3M's Tartan Box Sealing Tape 369 provides tight closures with resistance to moisture, abrasions, and scuffs.  
No matter what kind of 3M packaging tape is best suited to your individual needs, our team is standing by to help you find the right fit. We've got plenty of choices for 3M machine packaging tapes and hand tapes, as well as a wide range of performance capabilities suited beautifully to your unique process.  
3M Industrial Tape 
3M industrial tapes and 3M double coated tapes are versatile adhesives that can be used across a variety of applications, including:
POP and POS Displays

Metal Fabrication

Paper Bonding

Home and Office Decoration

Appliance Trim Attachment

Plastic Part and Electronics Mounting

Furniture Trim Attachment

Much More
Each 3M double coated tape is equipped with phenomenal peel performance on many different surfaces. They also boast exceptional initial adhesion on LSE and HSE, incredible performance in high temperatures, and resistance to humidity. On top of all that, these durable 3M industrial tapes are immensely easy to handle and convert.  
3M Packaging Products with IPS Packaging & Automation Solutions 
Here at IPS Packaging & Automation, we're committed to providing you with the right packaging solutions for your business. Our team of expert packaging specialists will always listen to your individual needs and concerns, then work diligently to find you the ideal resolution. Oftentimes, this means utilizing 3M packaging products and 3M packaging equipment. 3M is a trusted name in the packaging industry and beyond for very good reason. With their commitment to high quality and exceptional performance, we never hesitate to recommend 3M packaging products to our customers.