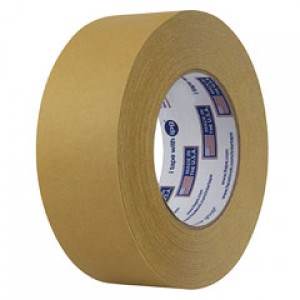 72mm x 54.8m 539 7.2 Mil Flatback Tape 16rl per case
72mm x 54.8m Intertape 539 Flatback Tape 16rl/cs IPG 539 is a moisture resistant kraft flatback paper tape, boasting of aggressive pressure-sensitive, natural/synthetic rubber adhesive. Designed for use in applications where reduced weight can provide a packaging savings.
Approved as packaging tape by US Postal Service and U.P.S.
Applications include: Carton sealing, packaging, silk screening, picture framing, beaming/leasing, splicing, and tabbing
Government Compliance: PPP-T-42C, Type II; C.I.D. A-A-883, Type II; C.I.D. A-A-1683B
Approximate Lead time: within 24 Hours
Sold by RL
1+
5+
10+
20+

Retail price

5%

8%

12%
Need a live product specialist?
Please call 800-277-7007
Specifications
| | |
| --- | --- |
| Width | 3" |
| Length | 60 yds |
| Thickness | 7.2 Mil |
| Color | Brown |
| Backing | Kraft Flatback Paper |
| Type | Paper Flatback |
| Tensile Strength | 45 |
| Shipping Height/Depth | 12.38 |
| Shipping Length | 11.88 |
| Shipping Weight | 25.00 |
| Shipping Width | 11.88 |