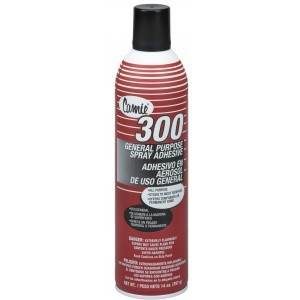 Camie 300 General Purpose Spray Adhesive
Camie 300 General Purpose Spray Adhesive was especially formulated to bond paper, cardboard, fabric, leather, foil, fiberglass to metal, wood, and a variety of other substrates. It is especially useful in the screen print, pool table, and sewing industries. Camie 300 is essentially colorless. It offers quick tack and produces bonds that may be temporary or permanent. Features:
Essentially colorless
Instant tack
High strength
Temporary and permanent bonds
Approximate Lead time: 1-2 Business Days
Sold by Case (1/Case)
1+
2+
4+
6+

Retail price

5%

8%

12%
Need a live product specialist?
Please call 800-277-7007
Application
General Purpose Spray Adhesive
Specifications
Application
General Purpose Spray Adhesive
Substrate
Paper, Cardboard and some Fabrics_x000D_
Light weight bonding on a variety of substrates
Type
Camie 300
Ounce per Can
14