Damage Indicators by SpotSee
Since 1974, SpotSee has been in the business of protecting packages and providing incredible accountability in the supply chain. Originally, the company was known as ShockWatch and was so named for their first and best-known product, the ShockWatch damage indicator. Over the past 45+ years, their product lineup has grown and improved dramatically. It now includes all types of shipping damage indicators, including temperature indicators, tilt indicators, GPS tracking, and an even more diverse inventory of impact and vibration monitors. Each of these expand on their original ShockWatch product to give customers the most comprehensive range of options on the market.
Today, SpotSee is a global leader in supply chain accountability. They have combined their leading brands – ShockWatch, ColdMark, WarmMark, TiltWatch, and more – to all perform different, but equally important tasks, to create a network of products equipped for all kinds of products and shipping. Take a look through each of the different shipping damage indicator options available to you when you work with SpotSee and IPS Packaging & Automation.
ShockWatch Impact Indicators
ShockWatch impact indicators are specially designed to record and measure harmful shocks and vibrations that may damage your goods during shipment. Simply place one of these high visibility devices onto your box or container and it will alert everyone around when an impact or vibration exceeds the level you initially set. It generally does so by changing color to bright red, with some single use options and some resettable impact indicators available. Take a look at the variety of ShockWatch impact indicators from SpotSee:
ShockWatch Label: Single use, tamperproof, comes with five different sensitivity options.
ShockWatch 2: Single use, field armable, tamperproof, shows if package has been dropped or impacted beyond threshold of your choice.
ShockDot: Tamperproof, mechanically activated, includes unique serial number to prevent someone from swapping it with an inactivated device.
MAG 2000: Reusable, intended for large crates or shipments, records angle and direction of impacts.
ShockWatch RFID: Includes passive and scannable RFID chip that shows mishandling, field armable, tamperproof.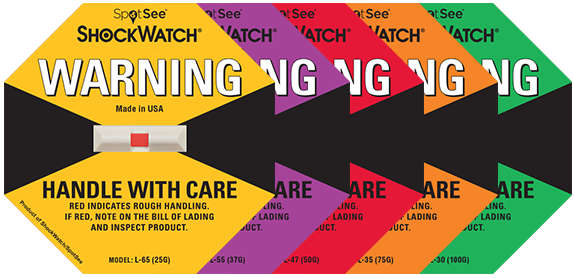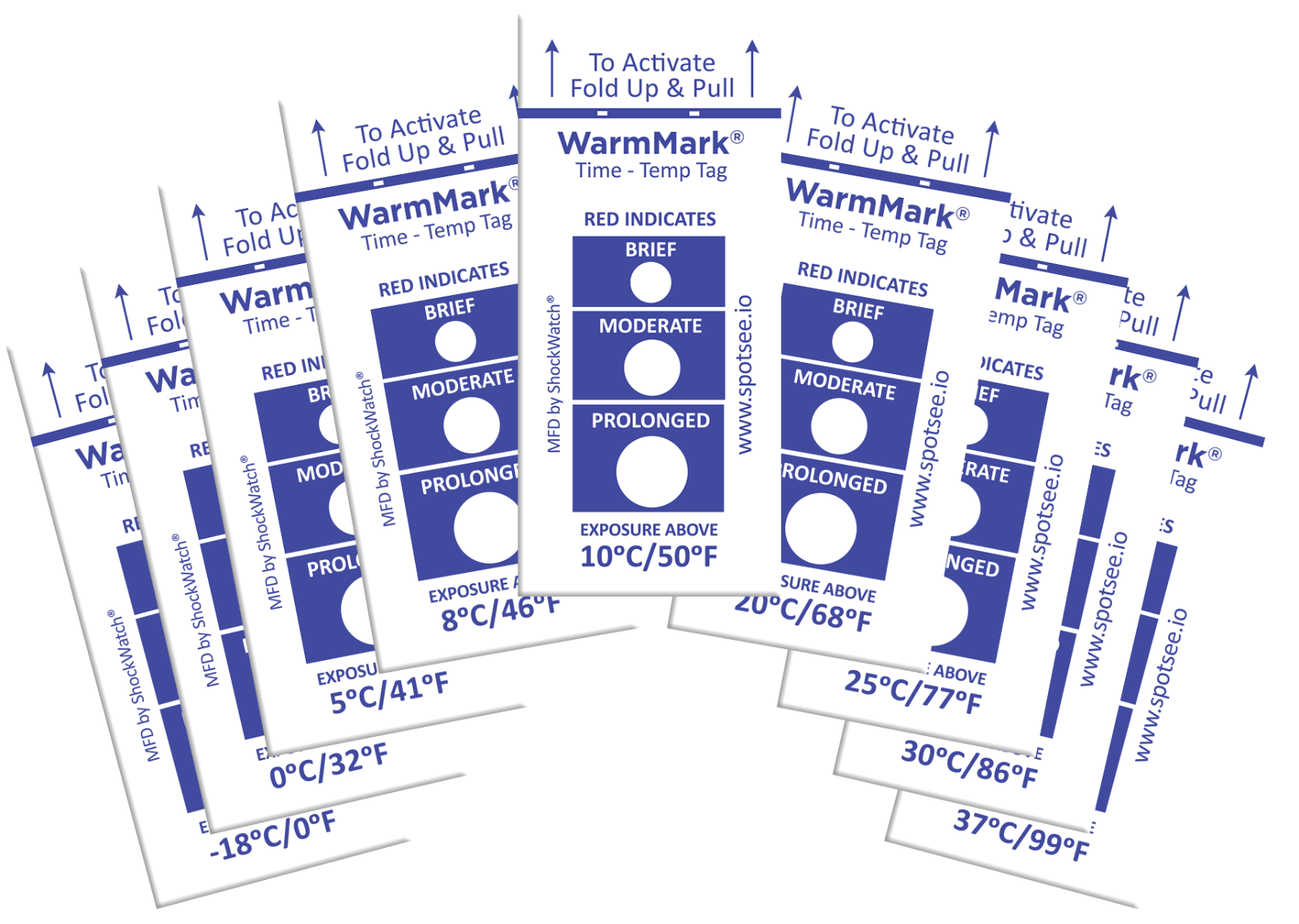 SpotSee Temperature Indicators
SpotSee's cold chain and other temperature indicators are an excellent tool for monitoring your shipments that cannot be exposed to temperatures above or below a certain level. Without tools like these, you may never know that products like food, produce, or pharmaceuticals have been dangerously exposed to temperatures that contaminate them, which could result in significant harm to the end user. These shipping temperature indicators from SpotSee come in two classifications – WarmMark and ColdMark. Check them out below:
WarmMark Temperature Indicators: Single use, field armable, show how long products are exposed to temperatures above your preset threshold.
ColdMark Temperature Indicators: Single use, show when products are exposed to temperatures below your preset threshold.
ShockWatch Tilt Indicators
Many products and shipments are delicate in nature and cannot be tilted or turned onto their sides without facing irreparable damage. ShockWatch TiltWatch indicators make this an easy problem to solve. These small devices attach easily to the side of your box or container and will show when the carton has been tipped too far to one side or the other. Take a look at the available tilt indicators made by SpotSee:
ShockWatch TiltWatch XTR: Records tilts past 80°, does not move during normal handling conditions.
ShockWatch TiltWatch Plus: Records tilts in 10° increments, shows direction and degree of tilt, shows if a complete overturn has happened.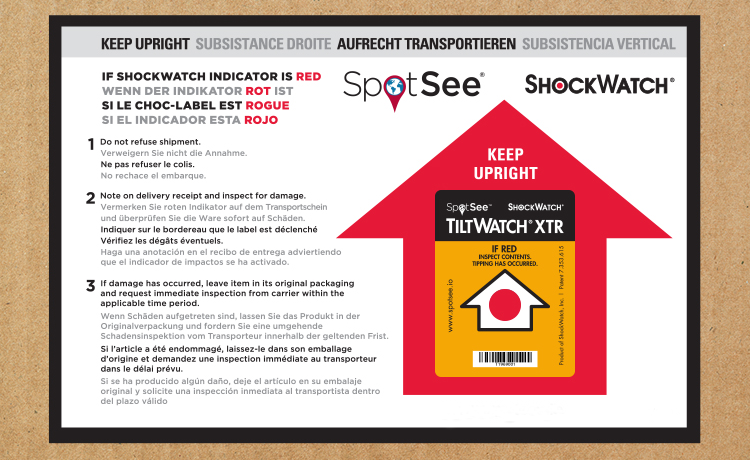 SpotSee Damage Indicators and Your Shipments
Utilizing shipping damage indicators by SpotSee can save you plenty of time, hassle, and money. No matter what kind of products you manufacture or sell, these helpful little devices take up practically no space at all and are a low-cost, low-effort investment that go a long way in seeing where and how problems occur in your supply chain. Contact IPS Packaging & Automation today for more information and extra guidance on how these tools can save you money and make your packaging process more effective than you ever thought possible.