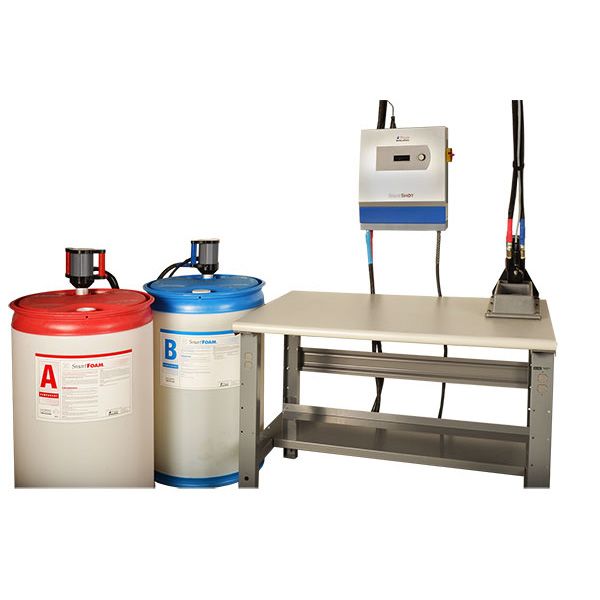 SKU
ips-smartshot-handhe
The SmartSHOT handheld foam-in-place system protects products with conventional or anti-static SmartFILM available in 36 and 48-inch centerfold and 48-inch flat film. A variety of SmartFOAM A/B chemical densities and SmartLUBE foam-in-place supplies deliver exceptional advantages that translate into long-term value.
Need a live product specialist?
Please call 800-277-7007
Benefits
Benefits
Greater access and more precise dispensing.
Maximum horsepower available (on motor) to retract purge rod from mixing chamber; minimizes downtime due to bonding of purge rod and mixing chamber. Zero maintenance expense, parts are included with equipment lease at no additional cost. Fast & easy to clean and change. Minimal downtime to switch out change parts.
Maximum comfort and safety for users.
Maximum reliability. No more costly, unexpected downtime
Enables operations with diverse product lines to deliver consistent packaging protection. Automatic. Ensures products are protected with the right amount of foam and film, each and every time.
Flexible mounting options.
Features
Features
Tapered dispenser.
Heated dispenser minimizes cold-shots.
Long lasting mixing module with motor design, tool-less module replacement.
Insulated handle stays cool.
Telemetry: self-monitors system performance, tracks the usage of consumables and automatically reoders supplies.
Bar-coding
Special mounting plate.