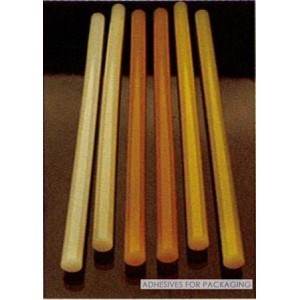 Glue Sticks 235-110 - 1/2" x 10"
235-110 glue sticks provide a medium working time of between 35 and 45 seconds. The components in Formula 235 have been analyzed by a qualified toxicologist and this product is certified to be non-toxic. Additionally, Formula 235 meets FDA CFR 175.105 adhesive requirements for indirect contact with food. Typical applications for 235-110 glue sticks include Speaker grills, mirrors, cabinet assembly, upholstery and reupholstery, double welt and gimp trim attachment, furniture, particle board, fir, fabric and apparel, porous substrates, and general product assembly. For optimum performance, Formula 235 should be applied in one of Adhesives For Packaging's reliable hand held hot melt applicators.
Specifications
Glue stick dimensions: 1/2" x 10"
Softening point: 182°F (83°C)
Viscosity @ 350°F (176°C), centipoise: 11,000
Specific gravity: 0.98
Shear tensile strength on pine, psi: 377
Adhesive tensile on pine, psi: 235
Adhesive tensile on steel, psi: 429
Adhesive tensile on polycarbonate, psi: 97
Hardness @ 72°F (25°C): 78
Heat resistance: 145°F (63°C)
Open time (approx.): 35-45 seconds
Sold by Case (22/Case)
1+
44+
88+
132+

Retail price

5%

8%

12%
Need a live product specialist?
Please call 800-277-7007
Application
Standard High Temperature
Specifications
| | |
| --- | --- |
| Width | 1/2" |
| Length | 10.5 |
| Application | Standard High Temperature |
| Forms & Format | 1/2" x 10" Sticks |
| Type | adhesives |
| Shipping Height/Depth | 5.75 |
| Shipping Length | 15.25 |
| Shipping Weight | 25.96 |
| Shipping Width | 10.50 |