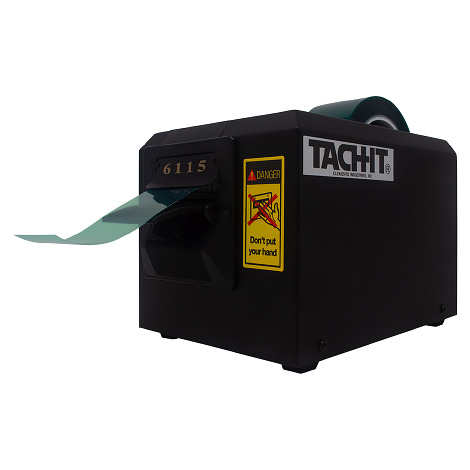 Tach-It 2" Wide Automatic Definite Length Tape Dispenser
This heavy duty automatic feed and cut definite length tape dispenser (6115) can work with 1 roll of tape up to 2 inch wide or 2 rolls of tape up to 1 inch wide each. As the most durable definite length dispenser due to the all metal internal components, the 6115 is reliable and easy to use with push button and LED controls and 4 programmable memory presets.

The Tach-It Model 6115 can cut most types of pressure sensitive tape from 1/2 inch to 39.3 inches in length. The 6115 has 3 modes. In random mode, the operator presses the feed button until the desired length of tape is fed and then presses the cut button to cut the tape. In Semi-Automatic mode, the pre-determined length of tape is fed and cut and removed from the machine. When the operator is ready for the next length of tape, they press the cut button and the tape is fed to the pre-determined length. In Automatic mode, the model #6115 will feed the tape to the pre-determined length and once removed from the machine, the next piece of tape is immediately fed.

Small bench top design, exclusive safety shield to protect the operator, and adjustable tape pressure to ensure positive tape feeding are all advantages of this machine.
Need a live product specialist?
Please call 800-277-7007
Other Specifications
Tape Width: Maximum - 2 inch, Minimum: 1/4 inch

Tape length: Maximum - 39.3 inch, Minimum: 1/2 inch

Core Size: 3 inch

Maximum Tape Roll Diameter: 6 inch
Specifications
| | |
| --- | --- |
| Width | 5" |
| Length | 8" |
| Height/Depth | 5.5" |