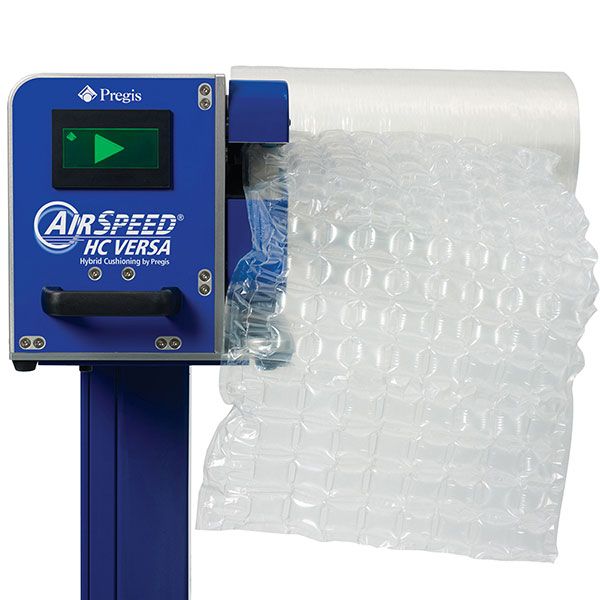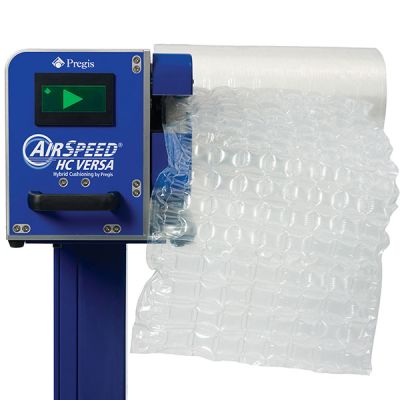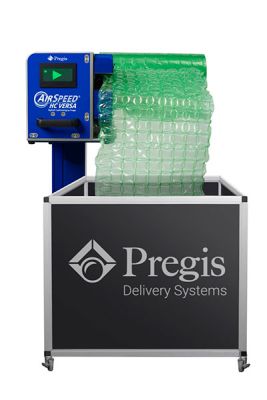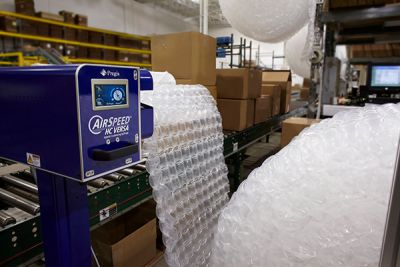 SKU
ips-airspeed-hc-vers
The innovative AirSpeed HC is the industry's ultimate inflatable, on-demand hybrid cushioning system. At speeds of 75 feet a minute, AirSpeed HC produces inflatable pillows for a wide range of packaging applications including void-fill, cushioning, containment and wrapping. Products of all shapes and sizes receive optimal protection from shock, abrasion and vibration during transit. Since the inflatable pillows come flat in rolls, storage is efficient and cost effective; packers use only the amount they need for the application at hand. The AirSpeed HC system has significant ease-of-use benefits over other block and brace materials, most notably foam-in-place (FIP). Often described as complicated, messy and negative for the environment, FIP is a costly packaging option for users. AirSpeed HC on the other hand, is clean, fast, flexible, simple to use and cost effective.
Need a live product specialist?
Please call 800-277-7007
Features
Versatile: Multiple film choices to maximize performance

Three cushion heights:
Small (3/4"), Medium (1") and Large (1 1/4")
Three cushion widths: 12", 18" and 24" inflated
Formulations: Standard, HC Flex and Renew

Simplicity: Easy to load, and operate with a simple start/stop operator interface

Speed: On-demand performance with the fastest machine on the market

High Yield: Proprietary pattern and registered perforation reduces material consumption

Compact Profile: Enables easy placement and flexibility for tight work areas

Delivery Systems: Compatible with wide range of ergonomic solutions
Film Features and Benefits:
Multiple pillow sizes for versatile use
Maximum flexibility for optimal performance.

True perforations
Sheets are perforated for easy-to-tear, quick packing with no loss of cushioning.

Excellent memory
Able to retain shape and protective qualities when folded, manipulated or wrapped.

Space savings
• One pallet of HC film can be converted into the equivalent protection of almost one-and-a-half truckloads of traditional bubble!
• No need to store drums of chemicals like FIP.

Great clarity
Lowers shipping costs vs. kraft paper or loose fill.
Specifications
| | |
| --- | --- |
| Type | Bubble Packaging Machine |