WHY DUNNAGE AIR BAGS MAKE SENSE IN THE POULTRY INDUSTRY
In the poultry industry, trailers carrying heavy loads of product find themselves overweight before they're fulling loaded with pallets. Shipping a truckload of chicken drumsticks is very different from shipping a truckload of paper towels. Dunnage air bags is the best solution for this unique problem to the industry.
The wholesale cost of shipped loads of processed chicken for sale in grocery stores around the nation range from $35,000 to $75,000. With strict regulations by the FDA and the USDA, recipients of poultry will reject an entire load of product if there is any damage during shipment that results in any meat coming in contact with the trailer. When the trailer is rejected, the only thing the producer can do is bring the trailer back and destroy it.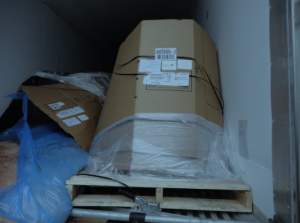 In addition to the cost of the lost product, the poultry production company is now also responsible for the cost of the returned freight, the cleaning and sanitation of the trailer, and the cost of shipping a replacement load.
The inclusion of air bags makes even more sense when you're shipping mechanically separated chicken (MSC). Typically, these are shipped in octagonal bins, making for a very awkward, uneven, and heavy trailer load. By using air bags to brace those bins, the likelihood of any damage or spillage is reduced exponentially.
COST SAVINGS WITH DUNNAGE AIR BAGS FROM DAY ONE
It can be difficult justifying to upper management the need to replace an already established process. However, material handling accounts for a great deal of the total cost of the product. Finding ways to save money in labor, damage claims, materials, and fleet efficiency, immediately provides a positive ROI.
REDUCE THE AVERAGE UNLOAD TIME AND LABOR SPEND PER TRAILER.
Time is money. And it is especially critical in material handling; any time a dock worker is handling freight manually, they're losing time. If dock workers are having to unload the trailers and fix shifted pallets, they're wasting valuable time.
The addition of dunnage air bags can help to reduce average unloading time by up to 66%. Save time and money because you're paying for less driver downtime and less fuel consumption.
The total cost of labor usually represents more than 50% of the total cost of a manufacturer to produce their product. And when you consider that the cost of labor continues to rise at a standard 2 to 3% rate each year, the total expense to business owners is rising exponentially.
With reductions in the labor hours being used to unload trailers with shifted pallets and working through the damage process, facilities are able to refocus those employees on more important and cost-effective tasks, saving up to 160% in labor hours that had been used for material handling and shipping activities.
---
Grab the full dunnage air bag white paper on the poultry industry:
Maximizing Trailer Loads for the poultry industry.
---

---
Read more:
---
Follow our Knowledge Base for the latest blogs on packaging supplies, equipment, case studies, and more ways to save money.
Follow us on LinkedIn, Twitter, and Facebook and click those share buttons below if this post helped you.