***Updated 6-1-18***
Did you know that the proper packaging tape can help ensure a safer shipment?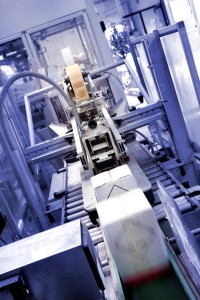 There are plenty of ways in which a product can be contaminated. If food or beverages is exposed to the wrong germs, it can be rendered useless, or worse poisonous to those who consume it. The opposite applies to industrial chemicals that could potentially harm someone if they get into the wrong hands. This is why it is extremely important that products are properly sealed in their containers to prevent these potential threats, and one of the best ways that a manufacturer or supplier can do this is with the correct packaging tape. 
There are a number of different types of packaging tape that can help ensure a unit is properly sealed. Depending on the conditions in which the package is sent, the ability for the packaging tape to withstand certain conditions is particularly important.
However, there are tapes available that can help prevent this sacrifice in quality. A synthetic rubber adhesive that can ensure a permanent bond even in freezing temperatures. This is particularly important in the transportation products that need to be stored at certain temperatures to prevent potential contamination.
Importance of packaging application
Though the material used in the packaging tape is certainly important, its strength can be completely undone unless properly applied to the shipping unit. To make sure that the tape is used properly, there are machines that can help improve its usage by automating the process. According to Packaging Digest, one such machine can take into account the size of the box and ensure the proper usage of the adhesive. These processes can be extremely helpful along the supply chain as this machine improves the speed in which boxes are sealed and can be used for weeks at a time without a break.
Convenience spurs packaging tape demand
Because the need to seal boxes is so important, the market for packaging tapes, especially ones that can withstand high pressures, is expected to grow throughout the coming years, up to 43.5 billion square meters, a total value of $37 billion, by 2016. This growth is expected to occur at a rate of 5.6 percent per year. The report explains that the growth in production of other industries such as manufacturing parts will be a major catalyst in this industry. The transportation of products is an essential element of a successful supply chain. Making sure that a product arrives safely to the customer is just as important as its successful assembly as the end goal is ultimately to have the product arrive safely and ensure proper operation.
Which is the better of the two tapes: water-activated tape (WAT) or pressure sensitive tapes (PST)?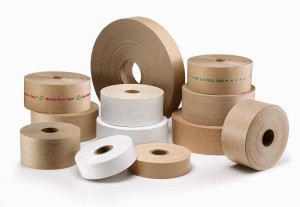 We sought out the industry-leading brains, SGS North America (SGS), to both define and create test protocols to test the differences between water activated tapes and pressure sensitive tapes.  The results of the study may surprise you.
The focus of the tests centered on four main criteria:
Productivity measurements
Material usage
Tape integrity (withstanding three varying climatic conditions)
Adhesion strength
SGS Test Highlights:
Productivity – Carton sealing productivity is 21% higher using a water-activated tape dispenser and WAT vs a hand-held tape gun with PST.
Material Usage – The average amount of tape needed to seal a single carton using WAT was 8% less than using PST.
Tape Integrity – In each climate setting, cartons sealed with WAT remained intact and prevented tampering; cartons sealed with PST were not secure and were easily accessed without revealing any signs of tampering.
Adhesion Strength – This test was designed to assess how well WAT versus PST adheres, or bonds, to cartons. The test results demonstrated WAT's noteworthy bonding ability. When the WAT was removed from cartons, it also removed 80% of the carton's fibers. PST bonded poorly and was easily removed from the carton without showing any evidence of the tape's removal.
Materials used in the study:
Corrugated cartons size: 18″ x 12″ x 14″
Better Packages WAT KRM450-10 Tape
Scotch Plastic Tape 3M 371
Better Pack 555eS Tape Dispenser
Tape Gun with 2″ wide tape
Carton sealing productivity is 21% higher using a water-activated tape dispenser and WAT vs a hand-held tape gun with PST.
Water Activated Tape vs. Pressure Sensitive Tapes
Test 1: Productivity
The objective of the first test was to assess how many cartons could be sealed in a six hour work day using water activated tape versus pressure sensitive tape.
To test this objective, the top and bottom carton flaps were sealed with a single piece of tape long enough to overlay the side of the carton to secure functionality. Water activated tape had a 3″ overhang; pressure sensitive tape had a 4″ overhang.
Results:
PST: 535 cartons were sealed in the six hour time frame, equaling approximately 89.2 cartons sealed per hour.
WAT: 649 cartons were sealed in the six hour time frame, equaling approximately 108.2 per hour. Productivity Increase with WAT? 21%
Conclusion: Productivity using a water-activated tape dispenser and water activated tapes is 21% higher than using a hand-held dispenser with pressure sensitive tape.
Test 2: Carton Sealing Material Used
This test used the information in the above test to calculate the amount of tape to seal a carton using water activated tape versus pressure sensitive tape.
Results:
PST: The amount of tape used per carton equaled approximately 51.5″.
WAT: The amount of tape used per carton equaled approximately 47.2″, thus saving approximately 8%.
Conclusion: The average tape needed to seal a single carton using water activated tape is approximately 8% LESS than using a pressure sensitive tape.
Test 3: Integrity Testing
The objective of this test was to take twenty cartons, ten sealed with water activated tape, the other ten sealed with pressure sensitive tape, and through the use of an Instron test machine, record the amount of pressure required to either open the carton where it is sealed, or tear the tape, or break the carton. Each of the cartons were tested in three differing conditions:
Standard Atmosphere – 73.4°F with relative humidity 50%
Tropical Atmosphere – 104°F with relative humidity 75%
Arctic Atmosphere – .4°F with humidity less than 10%
Results:
PST: The maximum force needed to open the carton was 16.8 lbs, which could easily be forced by an average person.
WAT: The force needed to cause the cartons to break was 60 lbs.
Conclusion: The WAT held up against the varying temperature and humidity test environments, and provided a reliable seal to prevent tampering.
Test 4: Adhesion Testing
The objective of this test was to see how well the water activated tape versus the pressure sensitive tape would adhere to the carton after setting for 5 seconds in one test and after setting 24 hours in another test. The procedure for this test included testing four cartons sealed with water activated tape and 4 cartons sealed with pressure sensitive tape, and then removing the tape by hand from the cartons. In each case – the 5 second test and the 24 hour test, the tape was pulled off, and the surface carton material that was pulled off with the tape was measured.
Results:
Paper Tape: After 5 seconds, the paper tape still had noticeable tackiness. After 24 hours, when the paper tape was removed, approximately 80% of the area where the tape was adhered, the carton fibers came off with the tape.
Plastic Tape: After 5 seconds, the plastic tape did not exhibit tackiness, and worse still, after 24 hours, the tape was removed easily, capturing only a small portion of the cardboard fibers with it.
Concluding thoughts:  If you're looking for a reliable, secure, tamperproof, versatile carton sealing tape, the overwhelming evidence points in the direction of water activated carton sealing tape.
---
*Editors note. This post was originally published on April 1, 2016 and has been updated with the most up to date content.
Follow our Knowledge Base for the latest blogs on packaging supplies, equipment, case studies, and more ways to save money.
Follow us on LinkedIn, Twitter, and Facebook and click those share buttons below if this post helped you.