The choice to automate your carton sealing operation
Rising labor cost, high employee turnover, and the need for faster line speeds are pushing companies to automate. End of line package automation is the new packaging buzzword: it saves time and money on the line and in your facility, but it also helps decrease product damage sustained in transit. Carton sealing machines are one of the end of line pieces of packaging equipment that can improve your bottom line.  When using automation, you're taking the human error element out of the equation; you're using less materials, you're ensuring a cleaner application, and, at the same time, you're removing the labor intensive aspect of packaging.

Choosing the right end of line carton sealing machine should be a careful consideration for any business. There are several factors to consider when making your choice. Just think of what your package will face in transit. While no protection is guarantee-able, especially once the package leaves your facility, if you've prepared your package for the worst, hopefully, you'll see better results.
Hand taping can be time consuming and wasteful, resulting in poorly presented boxes and a seal that may have been done two or three times over. It can also increase the risk of a repetitive strain injury being suffered by the operator as he or she repeats the same motions over the course of their shift.
What to consider
Consider the following when you start the process of determining if carton sealing machines are right for your facility:
How many boxes are you sealing and how many do you foresee sealing?
How are you currently sealing and how many people does it take?
What types of boxes are sealing? Are they all uniform shapes or do they change frequently? Are they fragile? Are they shaped irregularly? Are they light or heavy?
Could you improve throughput and increase production with automating the sealing process?
Are you experiencing shipping damages or theft? If so, do you know what is causing the damage or why it is easy for theft to occur?
Remember, there are two ways to seal your boxes, by hand or by machine. Hand sealing is labor intensive and slow; it's messy and can require multiple strips which could possibly still not effectively hold because the pressure by which they were applied was not right. And with more workers on the floor comes additional labor costs and the propensity for injuries from repetitive motion.
If you're wondering just how popular it is amongst other facilities, consider that 40% of the tape market is actually machine length tape. So, nearly half of people who are purchasing carton sealing materials are using machines. Advantages include lower labor costs, less material waste, greater productivity, and less damage and theft of materials during transportation. Material and labor savings, alone, can justify the initial cost of carton sealing machines in about a year.
Types of carton sealing machines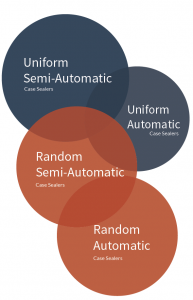 Carton sealing machines work by driving a carton (or box) through two tape dispensing cartridges. These cartridges apply tape to the box as it travels through the machine, replacing the need to apply a seal by hand.
Uniform Semi-Automatic: adjustable, operator-fed machines that process cases of the same size and style. Learn more.
Random Semi-Automatic: operator-fed machines that automatically adjust for each size case processed. When your manufacturing produces different sized cases to be processed through a single case sealer, a random case sealer is the answer. Learn more.
Uniform Automatic: operator-free machines that process same sized cases. These machines are required when consistent production flow rates exceed manual processing ability or when automatic case packing is utilized. Learn more.
Random Automatic: operator-free machine that processes random sized cases in succession. These machines will sequence the cases entering the machine, adjust for length, width, and height of the case before sealing the case. Learn more.
 A thought on damages
Theft in shipping is a major problem that can be helped with a quality carton sealer. Carton sealing machines can automatically apply tamper evident security tape to packages, securing contents while also preventing repetitive use injury. Improper or insufficient sealing may even lead large shipping companies to deny your claims of damage, as the "closure was not sufficient and failed."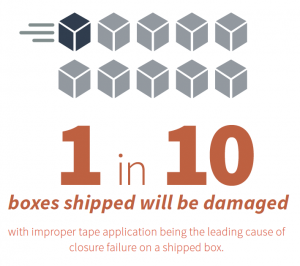 Ensuring proper tape adhesion can help save your products from that 10% potential of damage in transit. Machine sealed boxes are more securely sealed, significantly reducing costly product damage resulting from sloppily assembled and sealed cases.
Looking for more?
How about 4 key points to justify the expense of a carton stealing machine?
We've got you covered, just head here: Learn how case sealing automation can help your business.
---
Follow our Knowledge Base for the latest blogs on packaging supplies, equipment, case studies, and more ways to save money.
Follow us on LinkedIn, Twitter, and Facebook and click those share buttons below if this post helped you.