***Updated 7-23-18***
Benefits of stretch film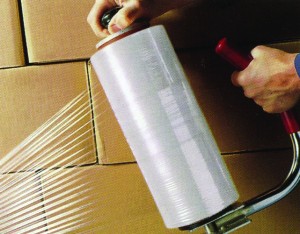 Stretch film is designed to adhere to itself without the use of adhesives; the film has a high coefficient of friction. It can prevent a package from sliding when a stack of product is handled. The prevention of sliding may not be an asset when the high friction creates handling difficulties for people, or sliding difficulties for certain types of machine handling.
Stretch wrap is generally used to secure goods on a pallet for transportation. Stretch wrap film is pulled around the load and stretched. The plastic has a memory and wants to return to its original size. This "elastic band effect" holds the load tight.
Stretch wrapping is one of the most popular unitizing and pallet wrapping methods on the market today. The following lists some of the main benefits of stretch wrap.
---
Stretch Wrapping Delivers Superior Protection
Stretch wrap loads are more secure which minimize shipping damages
UVI stretch films can protect products stored outdoors from UV rays.
Strong opaque films conceal load contents and reduce instances of pilferage
Stretch films keeps products free of dust, moisture and dirt
---
Stretch Wrapping Is Cost Effective

Stretch wrap film is more cost effective than alternatives such as strapping, corrugated or heat shrink film.
Stretch wrap equipment typically cost less than same caliber alternatives like shrink wrapping and strapping equipment.
Stretch wrappers uses less energy to operate than other unitizing methods like shrink wrap systems.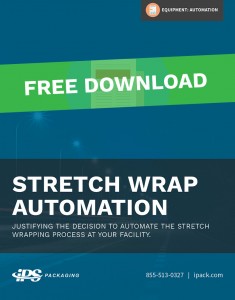 ---
Stretch Wrapping Is More Efficient
Improved inventory control
Increases worker productivity
Scan-through optics
Versatility of pallet load types
---
Stretch Wrap Is Versatile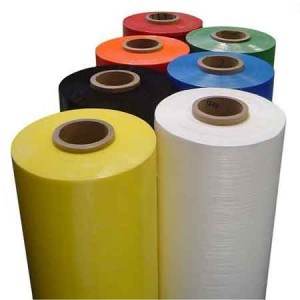 Stretch wrap films come in a wide variety of standard and special attribute blends to address many stretch wrap packaging application needs. Such as:
Color stretch films: Color Stretch Film is ideal for warehouse color coding, international shipments or dating inventory. Our color stretch wrap is puncture resistant 80 gauge cast film. Color stretch film is an extremely quite film because it comes off the roll extra smoothly and quietly. We offer seven different colors to choose from when ordering you color stretch wrap.
Specialty stretch films examples: UVI stretch films, VCI stretch films, heavy gauge films, roll wrap films, bundling film, banding film, wide web pallet wrap, vented stretch wrap, stretch wrap netting, pallet covers and top sheeting film, anti-static stretch wrap and more pallet wrap solutions.
---
Ultra-Violet Inhibiting Stretch Film Benefits:

Special Ultra-Violet inhibiting additives protect this stretch film from photo degradation in situations where wrapped loads are stored outdoors.
Polyethylene is weakened by prolonged exposure to UV (sunlight or fluorescent) light. Standard films may fall within 3 to 6 months with intense exposure.
Blown and cast films are available with UV inhibitors which stabilize the film and provide much longer storage life.
UV film does NOT protect the product from UV damage, only the film itself.
UVI (Ultra Violet Inhibitor) stretch films are in stock and available for immediate shipment. Film is used in palletizing products for long term outside storage.
Weather Wrap is a clear stretch film which provides protection from the elements. This protection reduces damage caused by Ultra Violet rays while maintaining strength and load holding integrity during prolonged outdoor exposure.
Weather Wrap U.V.I formulation is tested under controlled conditions (accelerated aging weatherometer).
UVI Film is available in Hand Rolls and Machine Rolls
---
*Editor's note. This post was originally published on November 4, 2011 and has been updated with the most up to date content.
IPS Packaging is a leading provider of packaging supplies, packaging equipment and packaging solutions. If you would like to know more about IPS Packaging, call 800.277.7007 or contact our
Sales
team.