Safety. Worker's compensation payouts. OSHA regulations. On the job safety. All of these are critical components to determining the total cost of your production.
Did you know that the US spends an average of $1 BILLION per week on nonfatal workplace injuries?
Or that 110,000 forklift accidents happen every year and that nearly 37,000 people are injured just getting on or off a forklift a year?
Then I bet you didn't know that every year over 1 million US workers are injured on the job and that the average person takes 9 days off work to recover. And that means over 9 million lost work days each year because of on the job injuries.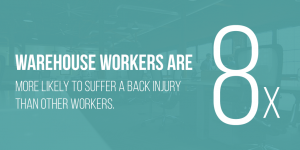 When on the job injuries cost employers this much annually, what can they do to help staunch the profit losses?
Well, my friends, it's time to automate. When you automate some or all of your packaging process, you're not only saving labor costs by reallocating workers, you're increasing your production rates (machines work faster), and, most importantly, you're keeping your workers safer! By automating, you're taking operators out of the equation, putting them behind shields and not requiring them to move repetitively, meaning reducing the risk of on the job injury.
When you realize it's time to automate, it's time to give us a call. As a total packaging supplier, we can help you walk through the process of automating a portion or all of your packaging program. We can help you with automatic stretch wrappers, automated case sealers, auto-bagging systems, or even customizable foam in place machines.
So, just how much do on the job injuries cost your business? Probably far too much. But with IPS Packaging as your partner, we'll help you find ways to save money, increase safety, and continue to produce high quality products.