Custom packaging equipment for salad dressing containers
A carton sealing machine is installed into a customized packaging line for increased efficiency. A producer of salad dressing pouches (1.5 oz foil) needed a solution to their custom packaging process.
Custom packaging problem
A worker manually erected and bottom sealed cartons. At the same time they visually counted rows of salad dressing pouches. The salad dressing containers came out of the vertical form fill and seal machine before falling into an open carton.  When the carton became full with desired count, he switched out the full case with an empty one, and quickly erected a new case while attempting to keep a new count. This process was increasingly frustrating to the operator and costly for the company.
Carton sealing machine solution
IPS Packaging installed a conveyor system along side with a carton sealer to automate the end of the line packaging process. 
Salad dressing packets come out of a vertical form, fill and seal machine, configured in two rows of six packets, onto a belt conveyor.
Packets transfer onto a trough conveyor which reconfigures their orientation and deposits them onto a second belt conveyor.
Salad dressing packets pass under photo sensors that verify product count.
The pull nose belt conveyor extends and retracts - dropping product onto a bombay door, which releases product into waiting case.
The filled case travels to a compression station before entering a TBS-100 for carton sealing machine.
This custom salad dressing packaging solution has resulted in multiple machine orders.
Their production increased to over 250 boxes a day helped prove the equipment ROI in just 9 months.
The food producer was so happy with the results, they installed several more machines to their custom line.
With case sealers, you also eliminate the likelihood of fatigue, downtown, and strain injuries on your employees. Check out another case study on case sealers.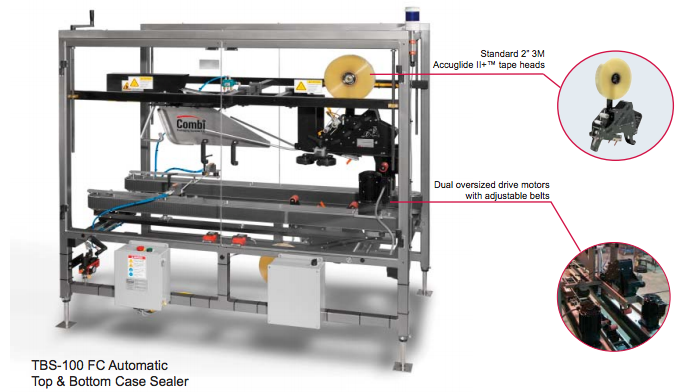 TBS-100 carton sealing machine features
Heavy duty tubular steel construction
Quick changeovers - tapehead and sidebelt adjust simultaneously resulting in one less manual adjustment
Oversized drive motors
Safety interlocked guarding
Seamless Combi system integration
See also:
---
Follow our Knowledge Base for the latest blogs on packaging supplies, equipment, case studies, and more ways to save money.
Follow us on LinkedIn, Twitter, and Facebook and click those share buttons below if this post helped you.