High performance from an inflatable packaging system
The Pregis AirSpeed HC Versa is a high performance inflatable packaging system that uses their hybrid cushioning film. This film is inflated, on-demand, into squares of pillows that provide superior product protection with less materials. Perfect for Ecommerce and retail, the inflatable air cushions prevent damage to your products.
Benefits of the Airspeed HC Versa
Simplicity: Easy to load and operate with a simple start/stop operator interface.
Versatility: 3 cushion heights: Small (3/4"), Medium (1"), and Large (1 1/4").

3 cushion widths: 12", 18", and 24" inflated

Speed: On-demand inflatable packaging with the fastest machine on the market.
Compact profile: Enables easy placement and flexibility for tight work areas and workstations.
Sustainable: Material source reduction vs. alternative materials, and all films are 100% recyclable.

HC renew film contains bio-additive to accelerate breakdown.
---

---
About the HC Hybrid Cushioning film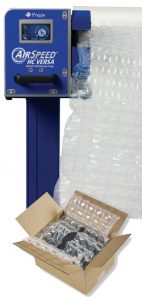 The AirSpeed HC Versa uses an innovative, specially engineered, high performance film to deliver end-user results. Made from low density polyethylene, the film is 100% recyclable (where available) and promotes environmental responsibility through proper disposal channels.
• Multiple film choices to maximize performance: Performance Plus, Performance, Standard, HC Flex and Renew.
• Excellent film clarity and configuration.
• Proprietary pattern prevents items from damage or "bottoming out".
• Engineered for strong, resilient seals and to resist puncturing.
• Lightweight packaging medium to reduce freight cost.
• High yield configurations provide reduced material consumption.
• Rolls of film provide a space saving alternative to other packaging materials.
• Recyclable as category #4. (where accepted)
---

---
Read more:
---
Follow our Knowledge Base for the latest blogs on packaging supplies, equipment, case studies, and more ways to save money.
Follow us on LinkedIn, Twitter, and Facebook and click those share buttons below if this post helped you.