Solving the damaged consumer products problem
A national retailer had a major problem that they didn't know how to fix. Damaged products and returns were becoming a constant problem as they used a ship-from-store fulfillment method. The centralized ordering system they used determined the closest location to a customer for their online orders. The problem with this was the inconsistent packaging from their employees. The cost of shipping damage continued to rise, along with angry customers. It was time for a new solution to their product packaging and the company was open to new ideas.
A small investment for each of their 376 stores, resulted in nearly $7 million dollars annual savings.
Retail store's packaging damage problem
Online orders were being filled from the back of each retail store location. Every store was supposed to have some packaging materials. This included bubble wrap, paper rolls, poly bags, shipping mailers, packing tape, labels, etc. The problem was that each store didn't carry all the supplies. Some stores would carry certain packaging materials, and other stories carried different ones. It was really up to the employees to decide how to package their products, there wasn't a standard set in place. Sometimes they used bubble wrap to protect the item and other times they would use packaging paper to fill the voids. You can imagine how this lead to excessive packaging in some cases, and lack there of in other cases. That's what lead us to engineering a custom product packaging solution.
Pain points
Not all stores supplied the same product packaging materials.
Employees chose how they wanted to wrap the products on an individual basis.
Increased shipping damage.
Solution: AirSpeed Fit
Working along with a trusted vendor and the retail company, we visited all their stores to get an inside look at what was going wrong. We observed their packaging process, and quickly realized that the process was different between each store. The main concern was the lack of consistent packaging materials throughout their stores. This is where we quickly fixed their problem, a problem that became a nearly $7 million dollar solution.
We recommended an air pillow packaging system, specifically the AirSpeed Fit. This inflatable packaging system is designed for on-demand fulfillment when space is an issue. It produces an air pillow that wraps around the products for protection. Eliminating multiple packaging materials and installing one machine at each location helped solve their main problem.
The packaging material used in the AirSpeed Fit replaces up to 7 rolls of pre-made bubble, increasing the space the retailer has in their packing stations.
AirSpeed Fit:
Compact to increase packing space, and just 15 lbs.
Ideal for ship-from-store applications.
Fits into tight spaces; can be mounted directly onto racking.
No training required. Simple and easy to use.
See also:
AirSpeed 5000
AirSpeed Smart
AirSpeed HC Versa
Product packaging savings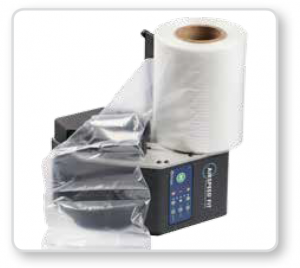 The retailer moved from an average cost per package of $2.22 to $1.21. That's a savings of 45.5%. They used to use 27.3 linear ft. bubble and moved to 2.8 linear ft. bubble. They also used 7.5 18'' x 24'' paper sheets and switched to 9.3 linear ft. HLX Small Cradle for the AirSpeed Fit. The savings per box is estimated at $1.01, multiplied at 50 boxes per day for a savings per day of $50.50. Multiply those per day savings to an annual savings of $18,432. Now take that and apply the savings to their 376 stores nationwide. The grand total of $6,930,432 in cost savings per year.
Don't worry, we've made it simple to follow below.
---
Previous packaging method
$2.22 average per package
27.3 linear ft. bubble
6.5, 18'' x 24'' paper sheets
Recommended packaging solution
$1.21 average per package
2.8 linear ft. bubble
9.3 linear ft. HLX Small Cradle
Savings per pox: $1.01
x
Boxes per day: 50
_______________
Savings per day: $50.50
Savings per year: $18,432.00
Annual savings across all retail locations: $6,930,432
---
An example of a product packaging work station
This workstation shows the different options available to make packing your products easier and more affordable. The company in the case study almost cut their costs in half, just by installing an inflatable packaging machine into their operations.
When a customer receives a package, it should be damage free and showcase your brand. Standardizing the packaging process is a simple solution if you're fulfilling products from multiple locations. The retailer figured out that by not having continuity in their process, it was costing them millions every year.
No process is the same and every company has different needs. We're here to help you figure out that solution to get you on the way to major annual savings.
---
More examples of product packaging improvements from air-pillow systems:
5 ways air pillow systems reduce packaging costs
Inflatable packaging system – AirSpeed HC Versa
Pregis AirSpeed HC System Cuts Costs and Replaces Sealed Air System
---
Follow our Knowledge Base for the latest blogs on packaging supplies, equipment, case studies, and more ways to save money.
Follow us on LinkedIn, Twitter, and Facebook and click those share buttons below if this post helped you