Returnable packaging overview
An automotive parts manufacturer produces plastic injection parts for the automotive industry, specializing in heavy truck and bus parts. In 2015, The automotive company received the business to produce plastic car kits for a Chevy Cruz model. The parts are produced in North Carolina and are shipped to their customer in Texas. They partnered with IPS to develop a cost effective, returnable packaging solution to protect the car kits. See what our engineering team developed to cut the company's costs.
The automotive parts manufacturer wanted to find a custom packaging solution to protect the car kits while being handled internally and during transport to the customer. The Chevy Cruz car kit contains 5 items, each varying in size considerably. The auto company wanted to cube out a 53' trailer efficiently, while keeping the number of parts equal. The injection molded parts were flimsy, so it was important to support them in the container. They were painted prior to packaging, so surface protection was another key concern. In addition, the company also had to take into account their customer's requests for the packaging solution.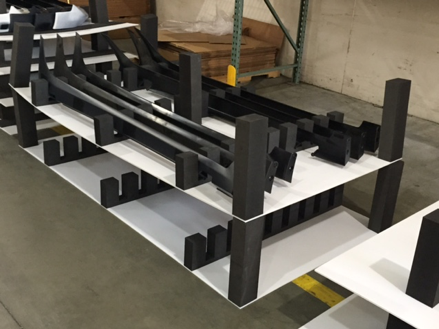 The first step was to find a pallet or container that could work for these large parts. IPS researched different pallet and container options and ultimately determined that a 96" x 48" plastic pallet/lid combination would work for the parts. A CON-pearl sleeve was designed to contain the products in the pallet while also providing stacking strength and protection. It was determined that a two-piece design was optimal to allow for easy loading/unloading of the large parts.
Two different options for internal dunnage were developed. The first was a double layer dust bag made of spunbond polypropylene (outer shell) and JM Fabric (inner shell). The parts would be placed in the dust bags and nested together to help brace them during shipping. The fabric would protect the painted surface of the parts. Colored thread would be used to help identify which bags were for each part.
The manufacturer also requested a design that kept the parts from touching. IPS came up with a design using crosslink foam adhered to a CON-pearl board which completely braced the parts. Ultimately, The automotive parts manufacturer decided to use the dust bag option internally and the foam dunnage when shipping to their customer.
In addition to these designs, IPS also used TOPS Optimization software to determine how to efficiently cube out a trailer while keeping the amount of parts consistent. They was able to use this information provided by IPS to determine their total supply chain freight cost for each part.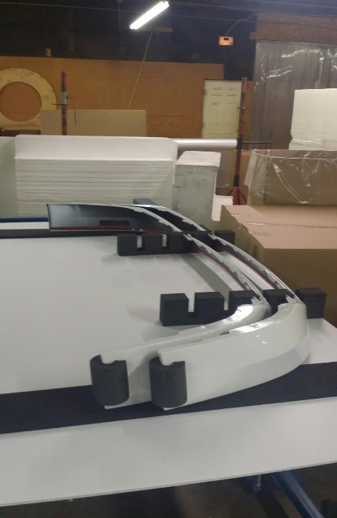 A manufacturer of auto parts wanted to implement a returnable container and dunnage solutions for a new product line. IPS came up with a complete solution, starting with a large plastic pallet and CON-pearl sleeve combination to contain the large parts.  IPS also developed two different internal dunnage designs to protect and contain the five different parts. In the end, both of the designs were implemented.  IPS also conducted an in-depth analysis and provided Them with the information they needed to complete their total supply chain freight costs.
---
Follow our Knowledge Base for the latest blogs on packaging supplies, equipment, case studies, and more ways to save money.
Follow us on LinkedIn, Twitter, and Facebook and click those share buttons below if this post helped you.