There's a lot to unpack with the unboxing experience
By now you've probably heard about the unboxing experience, you may have had this experience yourself with consumer goods. That feeling of anticipation that one gets just before they open the packaging to reveal their new item. We've all done it and it probably started for everyone at Christmas. Think back to when you were a little kid and the excitement you got by opening those presents tucked under the tree. Now you may get packages shipped to your home and already know that they are. There's still that excitement over opening up the packaging and seeing what's inside. Emotional response, brand identity, product protection, and personalization; it's all part of the unboxing experience.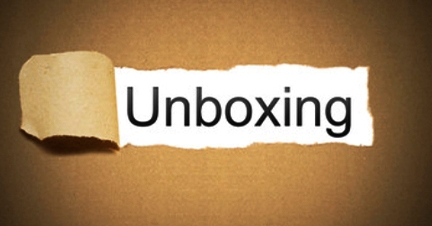 Emotional response
The end user's emotional response usually begins well before they've received your product. Starting with the shopping experience, consumers have usually made up their mind how they feel about you. The unboxing experience only helps or hurts the overall consumer experience in the end, but let's focus on helping.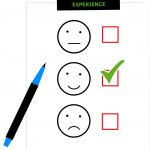 Consumers tend to recognize when a company has put thought into packaging their products. Whether it's a skid of packaging supplies to a retail store or their final product shipped to your house, it's the same experience. This experience of unboxing products can impact their appreciation of a brand or product value.
But how to you play into their emotional response? Focus on the packaging. Using quality packaging supplies helps indicate the importance of a product. Products lacking quality packaging probably means the product isn't that great. Remember, it's all on the consumers' perception, how do they feel about your products. If you're not taking the time to use quality packaging, you're not caring about your products. And your customers won't care about them either.
Brand identity
We've all received that package on our front door. The box with the black tape, white logo and the yellow smiley face. You know who I'm talking about, it's a jungle out there. Everyone knows that brand, everyone has an opinion with that brand. And everyone can spot that brand's identity from their driveway.
That's the type of brand identity you want to exemplify to your customers and there's easy ways to do that with packaging.

Printed boxes
Putting your logo on corrugated boxes is an easy way to get your brand recognized immediately. It's the first thing the consumer is going to see and it's going to stand out more than the others. Make sure you're using the right size box for your product. Wasting space is going to cost you more and leave the door open for shipping damage. Remember, the box is the first thing someone's going to see so make your first impression count.
Read more: Corrugated 101
Branded packaging tape
Branding your packaging tape takes your brand identity to the next level. It's less expensive than customizing your boxes or mailers, and it's a great way to stand out. The easiest way to achieve this is through water-activated tape. WAT is a great way to use your brand as a positive part of the unboxing experience. Seeing a tightly taped box arrive at the end user gives them a sense of appreciation. They'll appreciate the effort put into protecting the products and will instantly notice your brand printed on the tape. They'll associate quality packaging with your brand, and when they get to your product, well you know they're going to like it.
Read more: The water activated tape revolution
Air pillows
Let's say it together. No more packing peanuts. That's right, stop using those things. No one likes them and they're expensive to order and take up a lot of space in your warehouse or store-front. Instead, look into air pillow packaging systems. Instead of those clumsy peanuts, you'll have air filled cushions on demand using just a roll of film and a small machine. Air pillows help cut down on the cost of damage and improve damage rates. They're also able to be printed on, so make sure you get your brand logo on them.
Read more: 5 ways air pillow systems reduce packaging costs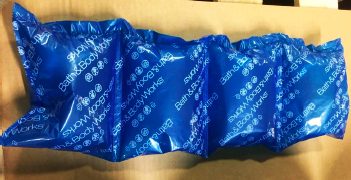 Labels
Customized labeling can go a long way to improving the unboxing experience for your customers. Personalization of your packaging and messaging to your customers is key. They'll feel a greater connection to your brand identity if they see something is just for them. Labels are on everything and they're a great way to customize your product for each customer. It will also help make returns easier if needed. Just because a product is returned doesn't mean they're frustrated with your brand. It may have just not worked out this time. Making it easier for someone to return something with pre-printed shipping labels helps smooth over the return process.
Read more: Packaging labels: What you need to know
Product protection
How many times have you received an item and had to fight through all the unnecessary packaging materials just to get to the product? It happens all the time, where the right amount of packaging is just way off. Avoid over using packaging materials inside the box. There's plenty products you can use for void fill, blocking and bracing, and cushioning. We're talking paper packaging, bubble packaging, foam packaging, and more. There's a smart way to package products and there's a wrong way. Chances are you've had your fair share of run-ins with the wrong way. Do your research, know your products and know the right protective packaging to use.
Paper void fill is an excellent way to product products from damage during shipping. It's 100% recycled content and can also be custom printed for a nice personalized touch.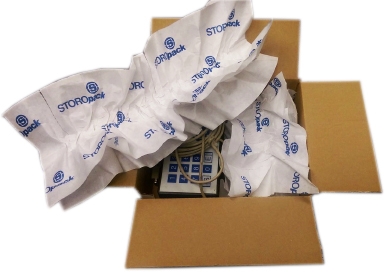 We talked about air pillows earlier but it bears repeating. They're one of the best ways to protect your products from shipping damage. The film used to make air pillows can be printed on, and there's numerous bubble designs that can be made. Most of the air pillow systems have very small footprints and can even be integrated into packing lines. See how one retail chain switched to air pillows from loose-fill packing peanuts.
Let your customers connect with your brand by adding a personalized touch through packaging. Pregis did this with their Inspyre line of air pillows. Other ways of personalizing to improve the unboxing experience include: cards, labels, bags, and discounts. Including a personalized card inside the packaging lets your customers know you care about each of them. It's the little things that they notice and seeing their name printed on something inside the box is a huge boost towards a positive unboxing experience. Most packaging supplies can be printed on so take advantage of that by adding some personalization.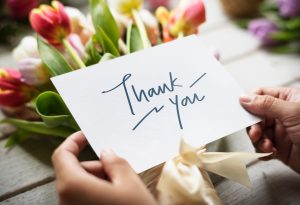 The unboxing experience solved with packaging
All it takes is a little effort and planning to improve your customers' unboxing experience. Focus on the 4 steps to improving their experience: emotional response, brand identity, product protection, and personalization. Each of these steps helps make a more rewarding experience for both the customer and your company. Taking the time to improve that puts your business in a good light, it shows you care. And when the customer feels that you care about them, they'll always have a good unboxing experience.
---
Follow our Knowledge Base for the latest blogs on packaging supplies, equipment, case studies, and more ways to save money.
Follow us on LinkedIn, Twitter, and Facebook and click those share buttons below if this post helped you.